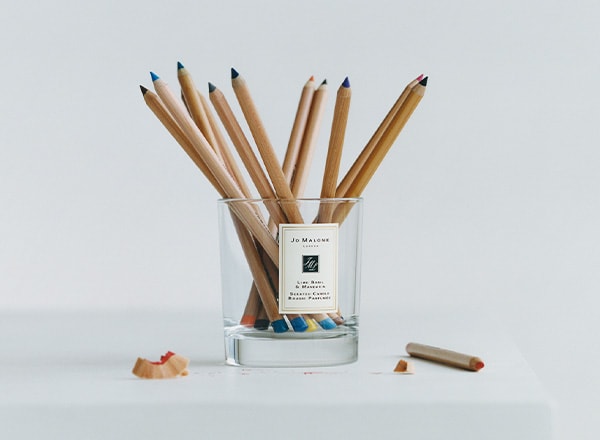 Don't resign recycling to the bin or right it off as a domestic chore. Why? The craftsmanship of our products means they can have a life beyond their original intended one. Indeed, in our constant strive to be more sustainable, we're encouraging the reuse of everything from our candles to our creme pots, because when it comes to associating empties with the bin, we take a different view. For Earth Day 2022, discover more about our scents and sustainable products.
Of course, candle glasses are the most obvious place to start. In your bathroom, they can be used to hold make-up brushes, mascara and slender eyeliners as well as cotton wool pads and cotton wool buds (of the bamboo variety, please). And before you dispose of the lid, consider repurposing it as a trinket dish for your nightstand. In your study, they're great for pens, pencils, paper clips and by the front door, a glass is a sure-fire way to ensure you know the whereabouts of your keys at all times. In that don't-go-in-there cupboard of chaos, they're great for those foreign coins (that you never do get around to exchanging). A firm Jo Malone London favourite however, is using candle glasses as vases and filling them with crocuses, daffodils or bluebells to celebrate Spring time.
Speaking of entertaining, our Glass Bath Oil bottles, with their glazed stripes and bow-tied necks, make charming holders for long stemmed beauties, decadent or otherwise. You could also fill them with water and a single flower. A rose for Red Roses? A peony for Peony & Blush Suede? Or a lavish array of floral fancies. You get the picture.

While travelling, use a clean Body Creme pot to store jewellery and accessories. Oh, and finally, may we suggest reordering that drawer with our charming cream and black boxes? Square and rectangular, they are Tetris-like in their ability to fit in and around each other in tight spaces.